Ford Pinto For Sale
My neighbor has the following vehicle sitting in his yard:

1973 Ford Pinto
Hatchback/Wagon
Baby Blue in color

It has four flat tires but otherwise it's in surprisingly great shape. I don't know how many miles are on it. The motor is not locked up.
You will definitely need a flatbed trailer to take it home.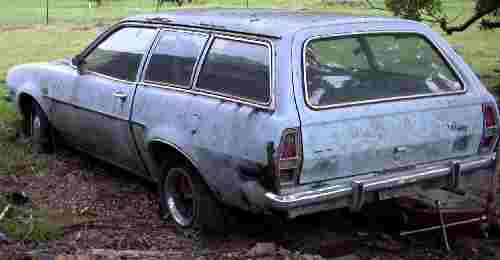 My neighbor wants it gone. Make an offer and come and get it.
Located north of Mabank, Texas, which is about an hour southeast of Dallas.
Call Bobby at 903-880-1112 for more information.
Click the links below for photos:
1973 Ford Pinto photo 1
1973 Ford Pinto photo 2
1973 Ford Pinto photo 3
1973 Ford Pinto photo 4
1973 Ford Pinto Options

1973 ENGERY ABSORBING BUMPERS added. Bumper was plain on base trim models. Bumper had rubber faced vertical gaurds & black impact strip w/ models having the Deluxe Decor package.

WAGONS had optional trim packages that could include simulated woodgrain paneling and luggage racks on the roof.

Engine:
122 cid
8.2:1 comp
86 HP @ 5400 rpm
Carb: Ford/Weber 2 bbl
5 main bearings
Serial # Code: "X"

OPTIONS:
Engine ($52)
140 cid
8.6:1 comp
90 HP Carb: Motorcraft 2bbl
5 main bearings
Serial # Code: "Y"

Cruise-O-Matic ($212)
AM radio ($61)
AM/FM Stereo radio ($222)
Luxury Decor Group ($137)
Full wheel covers ($27)
Forged aluminum wheels ($154)
White sidewall tires ($44)
Vinyl top ($83)
Air Conditioning ($383)
Squire Station Wagon ($241)

The Ford Pinto was a subcompact car manufactured by the Ford Motor Company. The car's design began in 1968 under the direction of Ford executive Lee Iacocca. It was first introduced in 1971, and was built through the 1980 model year. Like many Ford cars, it had a "twin": in the Pinto's case, the Mercury Bobcat. The Pinto was replaced by the Escort for the 1981 model year.

Body styles included a 2-door coupe, a three-door hatchback, a two-door station wagon, and the Ford Pinto Cruising Wagon, produced from 1977 to 1980 and styled to resemble a small conversion van (very much the trend in the late 1970s) complete with a round "bubble window" in the side panels. The car's design was conventional, with unibody construction, a longitudinally-mounted engine in front driving the rear wheels through either a manual or automatic transmission and live axle rear end. Suspension was by unequal length A-arms with coil springs at the front and the live axle rear was suspended on leaf springs. The rack and pinion steering had optional power assist, as did the brakes.

Road & Track faulted the suspension and standard drum brakes, calling the latter a "serious deficiency". But they praised the 1.6 L Kent engine, especially compared to the much-larger 2300 found in arch-rival Chevrolet Vega. Original engines included a British-built 1.6 L OHV I4 and a German-built 2.0 L SOHC I4. In 1973, the 1.6 L powerplant was dropped and a new 2.3 L engine became available; a 2.8 L V6 was available from 1975.

Through early production of the model, it became a focus of a major scandal when it was discovered that the car's design allowed its fuel tank to be easily damaged in the event of a rear-end collision which often resulted in deadly fires and explosions. The problem was that the vehicle lacked a true rear bumper as well as any reinforcing structure between the rear panel and the tank, and in certain collisions, the tank would be thrust forward into the differential, which had a number of protruding bolts that could puncture the tank. This, and the fact that the doors could potentially jam during an accident (due to poor reinforcing) made the car a potential deathtrap.

Ford was allegedly aware of this design flaw but refused to pay the minimal expense of a redesign. Instead, it was argued, Ford decided it would be cheaper to pay off possible lawsuits for resulting deaths. This discovery of Ford's apparent gross disregard for human lives in favor of profits led to major lawsuits, inconclusive criminal charges, and a costly recall of all affected Pintos. Ford lost several million dollars and gained a reputation for manufacturing "the barbecue that seats four." The cynical way of calculating costs of settlements against the costs of a recall is thematized in the novel Fight Club and its movie adaption.

One particularly appalling case resulted in a judicial opinion which has become a staple of remedies courses in American law schools. In Grimshaw v. Ford Motor Co., 119 Cal. App. 3d 757 (4 Dist. 1981) [1], the California Court of Appeal for the Fourth Appellate District reviewed Ford's egregious conduct in painstaking detail, and upheld compensatory damages of $2.5 million and punitive damages of $3.5 million against Ford. It also upheld the judge's reduction of the punitive damages from the jury's original verdict of $125 million. Of the two plaintiffs, one was killed in the collision that caused her Pinto to explode, and her passenger, 13-year old Richard Grimshaw, was badly burned and scarred for life.

More recently, it has been argued (in a well-known 1991 law review paper by Gary Schwartz [2] (PDF), among others) that the case against the Pinto was less clear-cut than commonly supposed. Only 27 people ever died in Pinto fires, which given the Pinto's production figures (over 2 million built) was no worse than typical for the time. Schwartz argues that the car was no more fire-prone than other cars of the time, and that the supposed 'smoking gun' document showing Ford's callousness actually referred to the auto industry in general rather than the Pinto specifically.

Due to the alleged engineering, safety, and reliability problems, Forbes Magazine included the Pinto on its list of the worst cars of all time. Ironically Ford had originally planned to include an inexpensive rubber bladder inside the gas tank that would have prevented most of the explosive crashes that plagued the car's run; in addition, Ford had also planned to include revolutionary dual front air bags. The addition of these two safety features would have added a few hundred dollars to the base price of the vehicle but would have probably made it a much safer vehicle. However, it is quite possible Ford would not have sold over 2 million due to the increase in price and may or may not have made less profit.

The Ford Pinto engine is the unofficial but ubiquitous nickname for a 4 cylinder internal combustion engine built by the Ford Motor Company in Europe. In Ford sales literature it was referred to as the EAO or OHC engine, it is also sometimes called the Metric engine since it was designed using the metric system. The internal Ford codename for the unit was the T88-series engine.

It was used in many European Ford cars and was exported to the United States to be used in the Ford Pinto, a successful compact car of the 1970s, hence the name which is used most often for the unit. In Britain, it is commonly used in many kit cars and hot rods, especially in the 2 litre guise. In Europe, the OHC was introduced in 1970 to replace the Essex V4 in the Mk.3 Ford Cortina (Taunus). It was the first Ford engine to feature a belt-driven overhead camshaft (thus the name).
Ford Taunus
Ford Escort RS2000
Ford Cortina
Ford Sierra
Ford Granada
Ford Scorpio
Ford Transit van.
TVR Tasmin 200

The Pinto engine was available in displacements of 1.3 L, 1.6 L, 1.8 L and 2.0 L. Due to emission requirements it was phased out towards the end of the 1980s to be replaced by the CVH engine and DOHC engine, the latter being (contrary to popular belief) not a twin-cam development of the Pinto unit. The 16-valve version of the Ford DOHC unit is still used on the Ford Transit. The only DOHC direct derivative of Pinto engine is Cosworth YB 16-valve engine, powering Ford Sierra and Ford Escort RS Cosworth variants.

The Ford Pinto used the OHC version, a 2.3 L (2302 cm³) unit introduced in 1973 which has a 96.0 mm (3.78 in) bore and 79.5 mm (3.13 in) stroke. This version lasted until 1995 in various guises. The earliest units produced 66 kW (88 hp) and 160 N·m (118 ft·lbf). This engine has also been known as the Lima engine, after the Lima Engine plant in Lima, Ohio, where it was first manufactured (it was also later manufactured in Brazil).

In the 1980s, a turbocharged and intercooled version (with 0.1 mm less stroke) was used in the famous Ford Thunderbird Turbo Coupe. This was made practical by the introduction of Ford's EECIV port fuel injection system and 1984's 2.3 Liter Turbo was the first production implementation of that advance in technology, which paved the way for across the board use in all Ford passenger car and light truck engines. Output for this version was 142 kW (190 hp) and 325 N·m (240 ft·lbf) for the 1987-88 model with the 5-speed manual transmission. The turbocharged and intercooled 2.3 was also used in the 1984-86 Mustang SVO, while the 1983-1984 Mustang TurboGT, 1986-89 Merkur XR4Ti, 1983-1986 Thunderbird Turbo Coupe and 1984-1986 Mercury Cougar XR7 skipped the intercooler on their turbo versions. A dual-spark version (with two spark plugs per cylinder and distributorless ignition) was introduced in the 1989 Ford Ranger and 1991 Ford Mustang. This version produced 78 kW (105 hp) and 183 N·m (135 ft·lbf).

More Information about the Ford Pinto:
Also called: Mercury Bobcat
Manufacturer: Ford Motor Company
Production: 1971 to 1980
Successor: Ford Escort
Class: Subcompact
Body style: 2-door coupe
2-door station wagon
3-door hatchback
Related: Ford Mustang II
Similar: Chevrolet Vega
Volkswagen Beetle
Toyota Corolla
AMC Gremlin